Classroom Instruction
All George Mason ROTC cadets are required to take certain military science courses in order to successfully complete all requirements to commission as an Army Officer upon graduation from GMU with at least a bachelor's degree in an undergraduate program of study.  These Military Science courses are required IN ADDITION to the requirements for degree completion of any approved major program of study that the cadet desires to study. Cadets receive their formal instruction on leadership, military doctrine, tactical knowledge, Army customs and courtesies in their Military Science Class which is taught by US Army Active Duty, ROTC Cadre. Classes are taught in the upstairs classrooms of the Recreational Athletic Complex(The RAC).
Physical Training(PT)
PT is conducted three days a week(Monday, Wednesday, Friday) from 06:30 am to 08:00 am in the mornings and at different locations throughout the semesters. During the initial months of the Fall semester, PT is conducted on the RAC Field and around the Fairfax Campus. As the school semester progresses into the winter and the temperature begins to drop, PT is moved indoors to the Mason Field House. The Patriot Battalion continues their physical training indoors until temperatures rise again in the latter half of the Spring semester when the program moves back out to the RAC Field.
Battalion training sessions are planned and led by cadets. The workouts are designed to improve the overall physical fitness of the cadets, and allow them to gain experience in planning, training, and leading formations. We tailor the workouts to be engaging and fun for all cadets and design new more entertaining ways of improving one's physical fitness through team building and unit bonding workouts.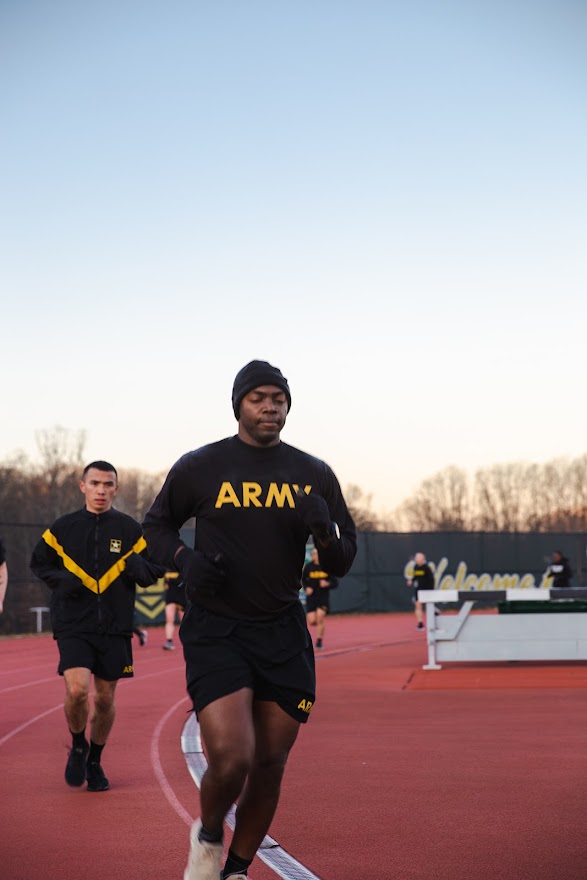 Patriot Battalion Workouts:
WEIGHTED CIRCUITS
SPRINTS
ABILITY GROUP RUNS(AGRs)
FORMATION RUNS
PATRIOT GAMES
AB/CORE WORKOUTS
STAIR WORKOUTS
HILL REPEATS
TRACK INTERVAL RUNS
SPORTS PT
HOLIDAY PT
SWIM PT
LOG PT
RUCK MARCHES
Army Combat Fitness Test(ACFT)
Leadership Laboratories
Every week the Battalion has a two-hour lab where the senior cadets teach the underclassmen cadets a variety of different subjects including land navigation, first aid, and tactical movement techniques, field craft, squad and platoon patrols. These labs are primarily hands-on training opportunities where cadets learn all the fundamentals about individual soldier tasks as well as form the skills of officer leadership. Cadets in the MS I and II grade levels are taught the basics about the military, the Army values, and other beginner-level skills. As they progress throughout the semester they begin to practice team-level drills, then work to squad-level patrols, and by their MSIII year, they will be doing platoon-level operations.
During their junior year of college, cadets are taught how to make detailed plans and execute them as platoon leaders in command of 30-40 other junior cadets. This year they also are given their first opportunity to be leaders in the program's Cadet Chain of Command and Battalion Staff Shops. Here, they serve as cadet non-commissioned offers and are tasked with either being the leaders and motivators of their organic companies and platoons, or assistants to the seniors in the planning and organization of the program's weekly training. Cadets' MSIII year is a key time for them to refine all that they have learned over the past three years and bring it together in preparation for their evaluation during Cadet Summer Training.
Combat Water Survival Test(CWST)
Each semester the Patriot Battalion works in conjunction with the George Mason Aquatic Fitness Center to provide cadets with the proper training and education on water safety so that they know what to do if they encounter a water feature while at Advanced Camp. the ROTC cadre as well as the AFC staff and lifeguards work closely to ensure that all cadets taking the test are doing it in a safe environment with all the necessary precautions taken. All cadets from MSI to MSIV are required to take the test each semester as it is both a camp and commissioning rec. The water test consists of the following four events:
Dawn and Dash
50-meter Rifle Swim
High Dive Jump
Two-Minute Water Tread
Field Training Exercise